We understand that customer confidence and the relationship between ourselves and the customer is one of the most important aspects of the job itself. Please click the checkatrade logo below to go to our checkatrade page and see the many reviews we have received so far.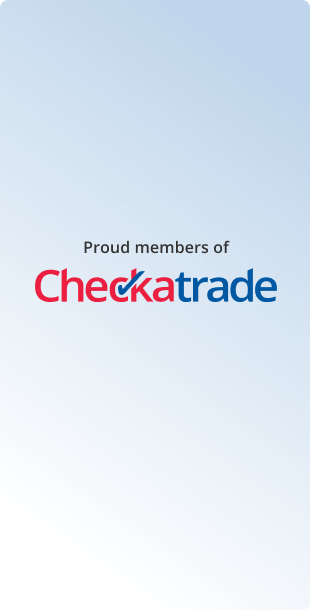 Fitted wardrobe, bed, desk and shelves in children's bedroom, Checkatrade BH15
"I have used Custom Creations twice now. They are an excellent team who provide expertise in design and fitting and they are all incredibly helpful and friendly. Very happy and I recommend to all."
Fitted wardrobes along one side of the room, Checkatrade BH21
"Excellent service, beautiful units fitted to an extremely high standard. Good experience from beginning to end. Good communication at all times throughout the procedure. Very pleased would not hesitate to use again."
A Media, Lego Display and Storage Unit for the Lounge, Checkatrade BH31
"I would highly recommend Custom Creations for Bespoke furniture at affordable prices. They were friendly and professional from the first moment we contacted them, and exceeded our expectations throughout. I was looking for something very specific; A media unit that could display Lego pieces, but also be pretty and practical. It seemed an impossible task, and something I could never buy from a shop, but James was able to achieve everything I wanted and more! Our unit is beautiful, amazing workmanship, and fits all our Lego pieces perfectly, along with added storage! I can't thank them enough."
Fitted bedroom furniture, Checkatrade New Milton
"All the staff we dealt with at this firm were friendly, courteous, helpful and professional, I can't fault them at all. Superb job, very happy with the results, very tidy and clean. The price was also good compared to the larger national companies which always seem to have a sale on. I would highly recommend this company"
Install new built in wardrobes in two bedrooms, Checkatrade BH4
"Could not be more happy. The installation was seamless, the finished product looks fantastic, and it was clear that the installer ( Daniel ) was passionate about his work. On time, very clean, and very polite. Very good company to deal with."
Fitted walk-in wardrobes, Checkatrade Wimborne
"Outstanding, cannot rate Custom Creations highly enough, not only am I thrilled with the finished wardrobes, but, the attention to detail when fitting and the level of perfection the fitter went to was amazing, to ensure they were just perfect, but, from the first visit by James, through to the quote arriving exactly when we were told it would and the staff in the offices have been very polite and helpful throughout! Definitely 10 stars in all areas!"
Newly fitted Wardrobes, Checkatrade Christchurch
"Our experience with Custom Creations has been first class from start to finish even during these difficult times of coronavirus . They communicated straight away whenever the Government advise changed and they issued detailed information about how they would keep us and their fitter Covid safe during installation of the Wardrobes. This is a lovely family business and I would not hesitate to recommend them to others. Our thanks to Jo, James and Dan for their excellent service."
Shelving, cupboards and desk for office, utility cupboard for hallway, Checkatrade Verwood
"This is the third time we have used Custom Creations for furniture in our house. Work to date includes wardrobes, bookcases, radiator covers, TV unit, and two complete home offices. I would not hesitate to recommend them. The service is exceptional from the start with advice given on based on their vast experience, to the end where the fitting itself shows true quality workmanship. The whole team are friendly and helpful and a joy to deal with."
New fitted wardrobes, Checkatrade Christchurch
"Our dealings with the company have been great from the start with a initial survey visit, removal of the old wardrobes, final check visit and today the actual fitting. All the staff have been brilliant. We have more work in other bedrooms to do that we will have no hesitation in asking Custom Creations to do for us."
New bedroom fitted, Checkatrade Bournemouth
"Out of 10? At least 12! Brilliant company to deal with, from the welcome at the showroom, to planning, to recommendations for other trades required, all coordinated for us, to the work itself superbly executed by Julian, a true craftsman and lovely man. We're beyond delighted with the result and will be back for the next project. Thank you to all the team."
3 door wardrobe fitted room 1 8 door wardrobe and drawers fitted room 2, Checkatrade Broadstone
"Julian was amazing and so were the custom creation team. Professional accomodating friendly and the end product is stunning 15/10 not 10/10"
Built in wardrobe/sliding doors and units, Checkatrade Ringwood
"The whole process from quote to completion was smooth and trouble free. Everyone at the company very friendly and helpful. Really pleased with the result and the finish is excellent. Would not hesitate to recommend."
4 fitted wardrobes built along 1 wall and 2 chest of draws built next to bed, Checkatrade Ferndown
"The whole team were excellent. Their attention to detail was appreciated. I have physical problems - they listened and helped choose the right options for me. They even suggested things I didn't know I needed!"
Under stairs storage area, Checkatrade Wimborne
"Friendly local firm. Very efficient. Reassuring personal service. Highly recommended."
New boot room, fully fitted bedroom, office and lounge media units., Checkatrade Verwood
"From start to finish their professionalism and workmanship was excellent. Nothing was too much trouble. You will see from the scores provided their service was simply outstanding. We will not hesitate to use again or to recommend."
Installation of fitted wardrobes., Checkatrade Verwood
"Excellent service from beginning to end. The design advice gave us exactly what we wanted. The installation was carried out to a very high standard with everything cleaned afterwards."
Home office project, Checkatrade Salisbury
"Excellent team who worked tirelessly to complete an excellent project. I will be using them again."
Fitted units in bedroom., Checkatrade Broadstone
"Thank you for an excellent job very well done. Dan our fitter was every thing and more than we expected. Thank you Custom Creations, we will continue to recommend your first class service."
Fitted wardrobe in bedroom, Checkatrade Wareham
"Professional job from the start by Steve. Fantastic result; high quality workmanship. Highly recommend. Thank you very much."
Fitted bedroom unit cupboards in utility room, unit in lounge, Checkatrade Bournemouth
"This is the second time we have chosen this company. They are very professional and quality of workmanship is excellent/"
Built in wardrobes., Checkatrade Ferndown
"Company take time to accommodate your requirements. Craftsmanship is excellent and workman cover all furniture in the room, tidy up afterwards. Brilliant."
Built in cupboards and shelves in lounge, Checkatrade Christchurch
"We have been very impressed with the complete service, all staff a pleasure to deal with, fantastic job."
Custom designed fitted office, Checkatrade Christchurch
"So refreshing to find a modern company providing such excellent service. Personnel at all levels of contact extremely professional, caring and kind. Fantastic end result and very happy to recommend to anybody."
Custom fitted wardrobes, Checkatrade Ferndown
"Excellent company from showroom to designer to fitter. No words can describe the service, quality and professionalism."
Install Under Stairs Bespoke Cupboard, Storage, Checkatrade Ferndown
"We had custom creations install fitted wardrobes in one of our bedrooms in February and were extremely pleased so we had them back. We were not disappointed."
Fitted Office Cupboard and Desk, Checkatrade Bournemouth
"Very impressed from introduction to completion. Professional service and quality of work."
Fitting Wardrobes in Bedroom, Checkatrade Ringwood
""Excellent service, friendly, professional, caring service, would use again." 31 May 2017"
Fitted Wardrobes, Checkatrade Verwood
""Their first priority was laying dust sheets etc. Very professional neat and tidy job cleaned up after, excellent job all together." - 26 May 2017"
Fitted Bedroom Furniture, Checkatrade Bournemouth
""Polite; punctual and professional. Really pleased with the whole experience from first contact, through design, to installation. Great work by all the team." 26 May 2017"
More Wardrobes added to the fabulous ones already fitted by them, Checkatrade Bournemouth
""Amazing company, good value for money, polite, informative, clean and professional. One negative - they are too busy! Would use again and again." - 25 May 2017"
New Kitchen, Checkatrade Ferndown
""I had a new kitchen fitted by James from Custom Creations. He was excellent, polite and punctual and a clean worker. The product is fantastic, very sturdy and modern." - 15 May 2017"
Cloakroom Cabinet and 2 x Counter Tops, Checkatrade Verwood
""Very pleased indeed. Happy to recommend." - 11 May 2017"
New Wardrobes in 2 Main Bedrooms, Checkatrade Winchester
""Great experience from start to finish. Wonderful family business. We had them round to quote last year and knew straight away we wanted to work with them. Eventually placed the order in Jan after other preliminary jobs had been finished at the house, luckily lead time was only 3 months then - I think it's even longer now as their quality and reputation speaks for itself. Highly recommended by us and will definitely use again in another property." - 10 May 2017"
Custom made fitted bedroom furniture, Checkatrade Ringwood
""Came a week early and we were delighted to see their fitter Julian who fitted our previous bedroom. Explained everything before he started. Excellent workmanship. Pleasure to have him work in our home, a wonderful company" - 05 May 2017"
Fitted wardrobe, Checkatrade Wimborne
""Skilled craftsmen, efficient office." - 02 May 2017"